Jim Young was Commodore of the NBYC 1951-1952
New Zealand Yachting doesn't have a Hall of Fame. If it did, Jim Young would have a guaranteed place.
Now in his 90s, Jim's yachting successes encompass: building and designing a range of sailing and motor craft that have been innovative and hugely popular.  Among many other successes: his keeler Tango with spade rudder and short keel  was 20 years ahead of its time. He designed the first canting keel in New Zealand, maybe anywhere in the world. His NZ 37, Young 88, Young 11 designs have been successful world-wide.
In his X class, White Heather, Jim and his crew of Northcote sailors won the Sanders Cup in 1949 at a time when the Sanders Cup was the premier  sailing contest in the country.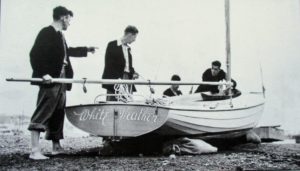 In 1951-1952, Jim was Commodore of the Northcote and Birkenhead Yacht Club (NBYC).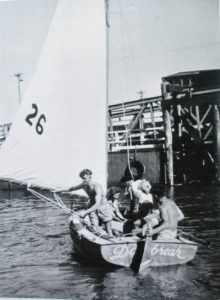 In 1993, two of his designs won Division One and Division Two of Cowes Week, a remarkable feat
In 2012 he was made an Officer of the New Zealand Order of Merit for his contribution to yacht design and construction.
There's much more. The full story is in his book " Jim Young designer, boatbuilder, sailor" available from Amazon. It's a fascinating and inspiring read, a window, too, into New Zealand sailing history over the past 80 years.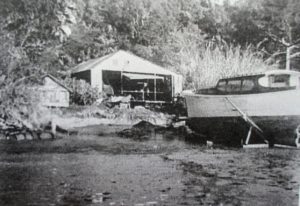 Jim Young at home in Takapuna, February 2020.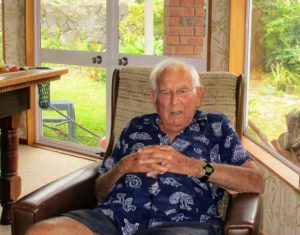 Getting on the Water
Jim, just back from his weekly session with old mates at "Cobweb Corner"  in the Royal New Zealand Yacht Squadron, recalled his first experience of being afloat.
" I must have been only 5 or 6, in Wellington, one Saturday afternoon, visiting HMS Diomede, a  British Royal Naval Cruiser.  I was standing on the floating  pontoon alongside and got a real kick out of being afloat. It was the feeling of being rolled and jolted by the incoming waves under the pontoon. Never forget it.
"My Father would love to have been involved in boats more but his job and financial commitments limited his opportunities to get involved in the boating life. He did find time to make me  a small canvas-covered kayak (with a towel for a sail) that I used to paddle, with friends, on the Waiwhetu Stream on the eastern side of the Hutt Valley. It was an idyllic place .
"I moved to Otahuhu, Auckland when I was 10. My class teacher, Mr Edmund who  kept us in strict order and was known as a champion applier of the strap, built a Harry Highett designed  P class (originally called the Tauranga class), a fiddly and difficult boat to build before the advent of plywood and because of its small size. We kids didn't help him with the building but he gave us a turn at sailing on launching day.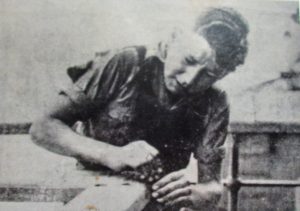 He got us to sail across the Tamaki Estuary.. I finally got the chance to have a turn."
" You forgot to pull in the sail!" I got told once back on shore.
"That was my  first sail ever and I will never forget it." 
                          Jim sailing off Narrowneck in his sailing canoe 1938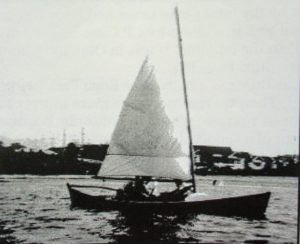 "Dad and my step-Mum moved to Sandringham, then to Narrow Neck where  Dad bought a Silver Fern: it was poorly built and leaked like a sieve. He used to keep it  dragged up on Narrow Neck Beach. I think that we were considered a nuisance by the Wakatere Boating Club as they sailed Frostbites, much lighter boats that they could  carry down to the water from the clubhouse .
" It was the Silver Fern, though, that got me into boat building. I saw a very professionally-built one at Narrowneck. It inspired me, made me realise that building boats was the craft I wanted to devote my life to.
"At the beginning of World War 2, The Ministry of Defence mobilised the  Army Training Camp, with guns along the cliffs from Narrowneck to Cheltenham;:  we used to sail the SIlver Fern under the cliffs while the four inch guns were firing over the top of us at a floating target 300 yards offshore. Nobody did a thing to stop us!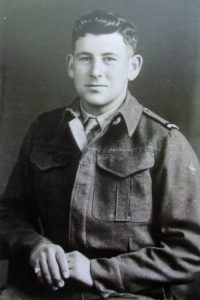 "At that time, all boats moving through the Channel had to report to Hauiti, an inspection vessel anchored between Rangitoto and the East Coast. Some fishermen didn't understand the rules and so didn't report – well, a four inch shell was fired across their bows. The noise! I can honestly tell you  that the blast from a four inch gun can make you jump four feet in the air from a sleeping position!!
The poor fisherman who forgot to report in not only got a huge shock. He had to pay for the cost of the shell.
"There was a very bright searchlight on Cheltenham Point, so powerful it could light  up the whole of Rangitoto Channel. No boat could pass unnoticed through the glare of the light.  And it attracted the fish. Cartloads. I've never seen so many Kingfish."
1945 and the End of the War
Jim finished his apprenticeship in 1945 when he was 20 and the following year joined B Company, 22nd Infantry to do service in Japan.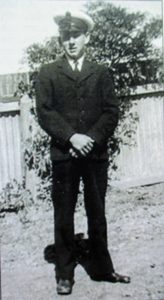 " After I came back from Japan, I teamed up with Jack Taylor and we built 14 ft clinker  dinghies at the back of a fish shop in Onehunga. They were popular for a while, the sort of boat in which you install a little inboard with a fly- wheel to wrap a starting cord round.  But we ran out of orders, so I took on the job of helping build a 54 ft yacht, Leda, for Dooley and Sandy Wilson  behind a house opposite the main entrance to Northcote College in Onewa Road. Leda, now fully restored, is in Anchorage, Alaska.
"That's how I got involved in the Northcote and Birkenhead Club. And, as far as I can recall, it was always called the NBYC, even back in the 1940s and 1950s.
"In the late 1940s,  my major ambition was to design and build a timber X Class ( maximum beam 5'9") for the Sanders Cup. So I built Valiant to my own design. Well, as much as you could change the original design – you had a set rig, a set beam, a maximum transom beam.  I took the design to Bill Couldrey, a renowned designer of the time for whom I have the greatest respect.
" The bilge-line is too straight. There's a trough between the bow wave and the stern wave so you may as well fill it up with boat!"
" So Ron Robb and I built  Bluebell and White Heather, X class sister-ships of identical design, in Rodney Road, Northcote.
"At that time the Sanders Cup was the pinnacle of sailing competition in New Zealand.
If you won the Sanders Cup, you were at the top.
"My crew for the 1949 competition, held in Wellington, was: Len Riley forward hand (son of well known sailor, Spot Riley), Ron Lamb, mainsheet and Snow Swanberg, the fourth man whenever it was blowing and we needed a bit more weight. It took me a while to find out that Snow could not swim and of course we never wore life jackets back then. They were bulky and heavy and restricted movement too much."
      White Heather, winner of the Sanders Cup, 1949. From left: Jim Young, Ron Lamb, Snow Swanberg, Len Riley.            
"We won the Cup in 1949.
"It really got me going! It was the very boost that I needed.
"I really got started on designing and building after this.
"To house a 34' Couldrey design, I built a 34' shed in Willow Bay, a secluded corner  at the top of Little Shoal Bay, on a piece of land that nobody wanted. Having built that boat I had good facilities to build more. I took on  Jack Kendall, my first employee, to help me in the yard.
           Jim's shed in Little Shoal Bay. Fiery Cross in the interior to the  left.
"We also built a house on the section. 
"As boat construction became more sophisticated and lightweight, great opportunities were created for  designing and building fast, light boats. So, I got involved in designing and building high performance catamarans. Multihulls were not in favour  back then. Traditional sailors didn't like being passed at speed by a catamaran.
"I often sailed over to the city in a catamaran, regularly passing ferries on the way. One day one of the ferry skippers said to me: " Hey, don't you know that the overtaking boat gives way!"
"I specialised in cats to the extent that someone said to me: "I would have got you to build a boat for me but I thought you specialised in catamarans."
"It made me aware that I had to make sure I kept my range of boats diverse."
The Northcote and Birkenhead Club.
"There was no club-house in my time. The  Club used the yard next to Sulphur Beach on the city side of Northcote Point, where the haul-out area still exists. Bill Couldrey was based there.
 " I can still look out from the motorway leading up to the bridge and see the haul-out area and also, at low tide, see piles of mud-covered stones that were deposited there decades ago, old ballast  from sailing ships.
" On the Little Shoal Bay side of Northcote Point, the land at the head of Willow Bay  belonged to the Taylor family of whom Ron Paterson was a member. The Taylors built a slipway to haul up their 48' schooner 'Lady Stirling ' for wintering over, a traditional practice at that time. Organised yachting between Easter and Labour weekend was unheard of.
" Where do the yachtsmen go over Winter?" someone asked me once.
"At low tide there is a hard papa shelf extending 40 yards out from  the foot of the cliffs, enabling vehicles to drive from the Gas Works at the top of Little Shoal Bay, past Halls Beach  and almost as far as the Northcote Wharf.
In those days there was a jetty at the top of Little Shoal Bay where barges were brought up at high tide to unload coal for the gas works, long since gone.
"There were not many specific social events  but I do recall a visit one regatta day to the Black Prince, anchored off Westhaven, where the officers supplied rum to us in a fit of generosity.  A memorable visit. 
"Keith Slattery, Ron Paterson, Bill Herald and my erstwhile  father in law, Arnold Paterson are some of the names I recall from those days. We all met regularly in the yard and yarned as we worked on our boats. One day a neighbour complained about the bad language and, as Commodore, I had to follow it up.
"I went to Curran Street, the local police station, to talk to Constable Du Temple, also known as the Count. He used to pull his cap down over his eyes and look at you down his nose, a man well-known to all the locals . Every night he went to the Northcote tavern to make sure the pub was empty by 6.
" Any chance of you coming down to talk to the Club members?" I enquired.
" What do you think I am, a bloody scarecrow?" he shot back.
Sailing Craft at the NBYC.
" Many of the boats were kept in Little Shoal Bay in the area of the Gas Works.
"There were several Z class ( Zeddies) in the club. Their national competition was the  Cornwall Cup, for under 18 year olds, so early in my involvement with the Club, most teenagers sailed a Zeddie. They were  12'6" and popular, but with a few peculiar habits, the worst being that they nose-dived at the drop of a hat. The key to avoiding a plunge was to make sure the kite was set and doused quickly. If the forward hand spent too much time up forward, his weight made the bow dive under.
" One of the  most popular among Club members  was the Q class, known as the 'Queer' class, a 12 footer, and very difficult to sail, light, very large sail area, unstable. It was like trying to ride a bicycle backwards!"
In the late 1940s, Uffa Fox's Tornado, a two-man, hard-chine, quarter-inch ply,  centreboard design was heralded as the upcoming Olympic class. It proved to be an abject failure. Jim was certain that it had a golden future and built several.  Till he became disillusioned.
" We extended its life by fitting a trapeze and then, to some, a sliding seat but it was tender and was never going to be a winner."
"Kids sailed the P class. Harry Lamb had an old 15' motor boat which he used to lay marks and to act as a patrol boat. He looked after the younger members of the Club.
"Lots of the sailing was in the area of Needles Eye between Little Shoal Bay and the Birkenhead Wharf. In those days the Eye was complete with a sand-spit extending 100 yards towards Halls Beach on Northcote Point and very handy for mooring boats between races."
           Jim's X class, Daybreak, alongside the  Birkenhead Wharf, mid 1940s.
Jim built an 11'6" Dart class for his children but the class never  became popular as the main fleet was at the Waiuku Club who commissioned the class from Des Townson.
"Idle-alongs, in my time with the NBYC, were much more in favour in Wellington. Later, with the advent of the Moffat Cup, they became popular with Club members.
"Weekends were for sailing. On Friday night we polished the bottoms, then, depending on the tide, towed the boats out to anchor round  the low tide mark in preparation for sailing the next day. At times we'd get up at 2 in the morning to catch the tide.
"We looked after our boats as if they were thoroughbred race-horses!
"Saturdays we would mostly sail off Birkenhead. We would also sail over to Point Chevalier and to The Tamaki Yacht Club to participate in sailing events  there."
Leaving the NBYC. "After my stint as Commodore, I decided that I couldn't do justice  to the club and also do my job as a builder and designer – so I wound down my association with  the NBYC. I just didn't have time for both. My job as a boat builder and aspiring designer took up all my time. I thought that I could contribute more to yachting by building and designing than through the Club. So I chose not to carry on with the yacht club."
Jim Young as told to Ted Berry, March,  2020.